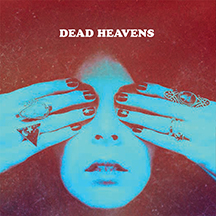 About the Album
** 9.25.2015 **
"Dead Heavens came to me while watching a film called An American Hippie In Israel," says front man and guitarist Walter Schreifels (Rival Schools, Quicksand). "In the film the aforementioned American Hippie collects a group of like minded flower children from around Tel Aviv. They cram into a convertible for a drive to the sea and pick out an uninhabited island to begin a new "free" society. They lose their raft, the waters around the island are shark infested, there's no drinkable water or food save a single lamb which the hippies ultimately fight to the death for–their heaven dead yet the lamb survives. Our band is like the lamb, a lamb that grows into a goat, with horns." Dead Heavens also features former members of Youth Of Today, White Zombie, and Cults.
Dead Heavens are: Walter Schreifels (vocals, guitar), Paul Kostabi (Youth Gone Bad, White Zombie), Nathan Aguilar (Cults), and Drew Thomas (Crippled Youth, Bold, Youth of Today)
Their second single, "Adderall Highway", is out now on Velvet Elk Records / One Little Indian in both the US and UK.
Limited Edition 7″ Vinyl Available 7″ Vinyl.
Reviews
"Walter Schreifels is a very rare beast: A New York hardcore legend who was around for the music's legendarily thugged-out CBGB-matinee early days but who's stayed musically relevant since then." – Sterogum
"Walter Schreifels has done just that, excelling in whatever genre he lends his talent to because he can write songs–it's that simple, man." – Bullett Media
"Walter Schreifels has to be one of the most consistently busy musicians in rock. "– Brooklyn Vegan
"The latest evolution happens to be some pretty sick acid rock – he's been evolving for 30 years, and doing interesting work at every step." – Dangerous Minds