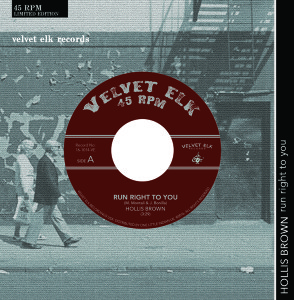 About the Album
Reaching back to their raw and energetic sessions for "Gets Loaded," a critically lauded, song for song revisiting of The Velvet Underground's seminal album, Hollis re-teamed with Don DiLego for the new single "Run Right To You." It's one of the songs who's e energy bleeds through the recording. From vocalist Mike Montali's raw lead to Jonathan Bonilla's ragged guitar solo, "Run Right To You" captures everything that's great about a band that has been a growing live act for years. The song was recorded at Velvet Elk Studios, deep ing the woods of Northeast PA, in just a couple takes. For the B-side to the single, the band chose to release a cover of Jesse Malin's "She Don't Love Me Now." Recorded live in Italy, it's a soulful and heartfelt take on what's quickly becoming a live classic.
Reviews
As heard on Little Steven's Underground Garage, Sirius/XM Radio. "Coolest Song of the Week" – Dec 2016
Released 14 Oct 2016
Links
Order 7″ vinyl at the Velvet Elk Store .
Credits
"Run Right To You"
Produced and Mixed by Don DiLego
Recorded at Velvet Elk Studios
Written by: Michael Montali & Jonathan Bonilla
"She Don't Love Me Now" (Live in Italy)
Mixed by Don DiLego
Recorded live on 11/8/15, by Paolo Pagetti and Federico Provini from Rivertale Productions.
Written by: Jesse Malin, Don Dilego, Derek Cruz
Mastered by Mike Rogers at Le Sonic