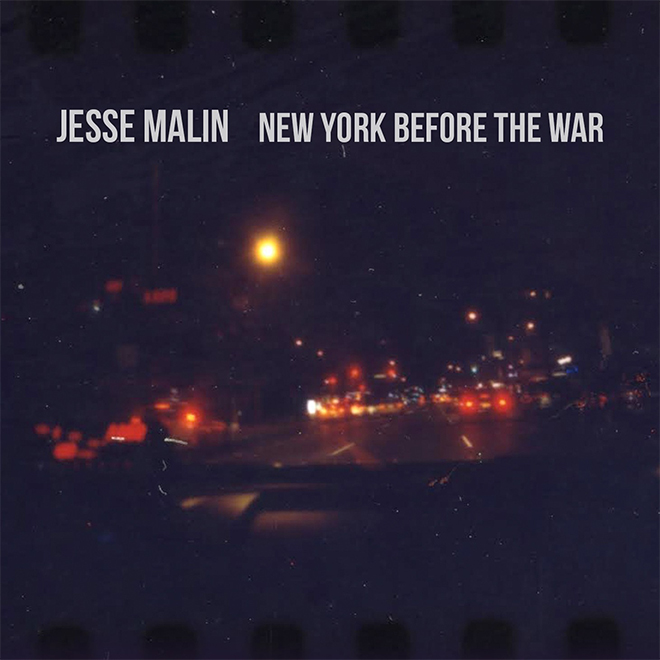 About the Album
Label: One Little Indian / Velvet Elk
It's been five years since Jesse Malin last released an album, and that only upped the stakes for this one. New York Before the War is a hymn to everything Malin believes in most: respecting your roots, grabbing the future by its throat, and creating a soundtrack for a life filled with meaning. None of those things is easy to do, especially now. In fact, that's what the war in the title is all about: the battle to create and hold onto what's worthwhile even as so many forces, both internal and in the world outside, conspire to sweep it away. At the very top of that list is music.
"I wanted to make a record that encompassed everything I've been through since I started playing hardcore when I was twelve or thirteen," Malin says. Two years ago he had completed an album "out in the country" at White Star Studio near Charlottesville, VA. But then he realized it really wasn't finished. "Late last December, just back from a tour, I found myself sitting in my studio apartment in an old, crooked building that had the words THE WAR boldly painted on its side," Malin says. "In the silence of the holidays, away from family and friends, I found myself questioning everything I believed in. Looking out the window at a broken world where our values, culture and art have become instantly disposable, I felt lost and alienated, but still yearning for something more. Turning to my music, I tried to carve out a place where I could once again exist, and I sat down and wrote the rest of this record."
He ended up with close to forty songs. "I've always been a fan of the album as an art form," Malin says, and New York Before the War is a unified statement. It opens with "The Dreamers," a haunting ballad that nearly became the album's title track. Resting on an elegant piano figure, the song evokes both the alienation and the sense of deep connection that travel can bring. Wherever you are and whomever you meet, "the blood still runs red," Malin sings. That sense of doubleness, that emotional complexity – carving your own path but desperate for connection to a larger community — runs throughout the album. Darker meditations like "She's So Dangerous" and "Bar Life" nestle next to rockers like "Freeway" (which features a blistering solo by the MC5's Wayne Kramer) and "Turn Up the Mains" (with Alejandro Escovedo on backing vocals).
Even within individual songs a sense of openness and possibility sometimes feels inextricable from the lure of destruction. In "Death Star" a woman gains a wealthy lover who "dresses to the right," but loses her soul. The jauntily upbeat "Bent Up" is about a friend and former band mate who died of a drug overdose. It's a roses-and-thorns kind of thing. The very qualities that make you compelling and creative can spiral you down. And, as with the lure of technology today, things that feel good and make your life seem easier can also destroy you.
"I always thought of music as a lifestyle, a place to exorcise your demons, connect with others and rejoice in the lonely places," Malin says. "Somehow there's a romance and an energy to all of this."
Peter Buck contributes a vintage R.E.M.-style guitar part to "I Would Do It For You," a tale of personal loyalty filled with longing and an aching sense of conviction. "That's my favorite and maybe most honest lyric on the record," Malin says. "It's about someone from your past who tracks you down and needs something from you, and because of your history, you can't say no. I never say what it is – whether it's a crime, drugs, a sexual relationship."
Malin finished New York Before the War at the Magic Shop in Soho and Flux Studios on Avenue A . Players include guitarist Derek Cruz, who co-produced the New York sessions with Malin; bassist Catherine Popper, who has played with Ryan Adams and Jack White; and drummers Randy Schrager (Scissor Sisters) and Paul Garisto, who played on Malin's debut solo album, The Fine Art of Self-Destruction, and with the Psychedelic Furs. Guitarist Don DiLego played on and produced the sessions in Virginia.
"New York Before the War is a metaphor for surviving in an ever-changing, rapidly desensitized world, while trying to find a way to live truly," Malin says. "It's not one particular war, but a global sentiment made for these times. It's a daily battle to keep the human spirit alive. Things are moving fast and forward, and this is my life right now." – Anthony DeCurtis
Reviews
"At once timeless & immediate" – Uncut
"New York Before The War, is both a love song to his home town and an enthralling road map of his musical journey so far." – Classic Rock
"A biting, searing return" – Clash Magazine
"A taut collection of catchy rock songs, stirring ballads, and recognizable rock and roll influences that immediately seems like the record Malin was born to make." – Absolute Punk
"Malin has more space to move around than on his more subdued solo works, and he sounds energized and eloquent on these 13 tunes." – All Music
"a superb collection of songs which might just be the summit of his career so far. – Americana UK
"A real widescreen scope…flows together effortlessly" – Vive Le Rock
"With moments of both raucous joy and dark contemplation, Malin's new album touches every part of human experience with a never-ending capacity for hope" – Aesthetica
"an album for our time that demands attention." – Hot Press
Released 31 Mar 2015
All Releases
Credits
Produced by Don DiLego, Jesse Malin, and Derek Cruz
All Songs Mixed and Engineered by Brian Thorn except where noted
Tracks 10, 1, 11, 6, 3 engineered by Gregg Williams
Additional engineering by Mark Lewis on Tracks 1, 12
Tracks 10 assistant engineered by Ed McEntee
Mastered by Fred Kevorkian at Kevorkian Mastering, Inc.
Recorded at: Magic Shop, White Star, Flux, Velvet Elk, Think Tank, Mission, One East, Dubway, Mercy
Preproduction at the world famous TuCasa Studio
Management: Gillian Stoll
Booking: North America / Deborah Toscano / Devil Dolls
Booking: Rest of World / Steve Zapp / ITB
Legal: Jaime Herman / Sloss Eckhouse LawCo LLP
Live Sound: Mark Lewis
Stage: Harry Greenberger
Wheels: Drew Eckmann
A&R Consultant: Diane Gentile
TOM
Jessemalin.com
Thank you to all those who supported the making of this record with PledgeMusic: Agita, Ann Mahoney, Bob Wolper, Brigitte Tersek, Bryan Cohen, Chaw Kim Choo, Cheryle Wilson, Donald Irving, Eric Chedel, Frank Ciotti, Gary Rothwell, Gavin Eves, Gavin Harris, Hilary Kinnair, Joanne Peluso, Karl Leslie, Kathleen Ann Kramer, Kent Roberts, Kent Wahlberg, Mark J Baran, Morris Weiss, Randi Anderson, Rhonda Lyne, Rich Catalano, Richard King, Sean Pledger, Sheila Barbee, Silvia Beltran, Steve LaPlaca, Trish Tubb & many more!