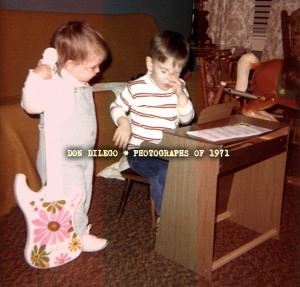 About the Album
Recorded in equal parts New York City and Portland, OR, "Photographs of 1971" is Don DiLego's new and third full-length album. It was self-produced along with Portland's engineer auteur, Gregg Williams (The Dandy Warhols). Having stumbled across some old white-bordered photographs from the 70's, Don was inspired to write a song that grew from the ashes of the collage strewn across the floor. That would later give way to the album's photographic themes, and a vivid backdrop for showcasing his strengths as a songwriter and storyteller. The Big Takeover! writes that Photographs of 1971 is "a masterful follow up to his Lonestar Hitchhiker series."
Don's first release, "The Lonestar Hitchhiker," was recorded for Universal Records shortly after his move to New York City. Featured musicians included Jay Bennett (ex-Wilco), Gregg Williams (Sheryl Crow, Wallflowers), and Paul Garisto (Jesse Malin, Ryan Adams). He has toured extensively across the US (including a stint on the MTV Campus Invasion Tour) as well as toured the UK. His songs have been featured in film and tv (MTV, VH1, HBO, Disney, Discovery), and Don has just completed the score for the feature-length independent film, "Ranchero." More recently, "Photographs" was received very well with influential stations like KCRW, WXPN, NPR, and XM Radio. The highly regarded "World Café with David Dye" selected Don as a World Café NEXT Artist, a national feature. The critical acclaim for Don's latest also led to a performance at the Bonnarroo Music Festival in June 2008.
Drawing comparisons to the likes of Wilco, Beck, Ryan Adams, and even the Beach Boys, DiLego continues to develop as an artist who refuses to be categorized. With "Photographs of 1971," he has released his most personal work to date.
Reviews
"One of this generation's best up and coming singer-songwriters." – Blogcritics Magazine
"The sparse arrangements and plaintive vocals create a wondrous setting with flecks of mellotron and the lonesome, weeping whine of the omnipresent pedal steel. A Masterful follow up to his Lonestar Hitchhiker  series. –The Big Takeover!
a
"New York City's emerging folk-twang songsmith, Don DiLego, is alt-country's next poster boy."  – Rollingstone.com
"Photographs of 1971 is one of those records that creep up on you, a great vibe and very strong tunes.  We have been spinning four songs from the album for quite a while, and it really does sound better each time." – XM Radio / Mike Marrone / The Loft
"DiLego really is quite accomplished as a crafter and arranger…there is little denying his extensive talents in writing a tune."  – Delusions of Adequacy
"A storyteller who invokes vivid imagery in the vein of Johnny Cash."–Northeast Performer
"Equal parts heartache and redemption, Photographs of 1971, provides the soundtrack to the highs and lows of our human experience." – Live 365
Released 01 Dec 2005
All Releases
Links
Soundcloud
Bandcamp
All Music Guide
Credits
Produced by Don DiLego & Gregg Williams
Mixed by Gregg Williams & Don DiLego
All songs written by Don DiLego, except track 7 by Ray Davies.
Recorded at Velvet Elk Studios, and The Trench – Portland, OR.