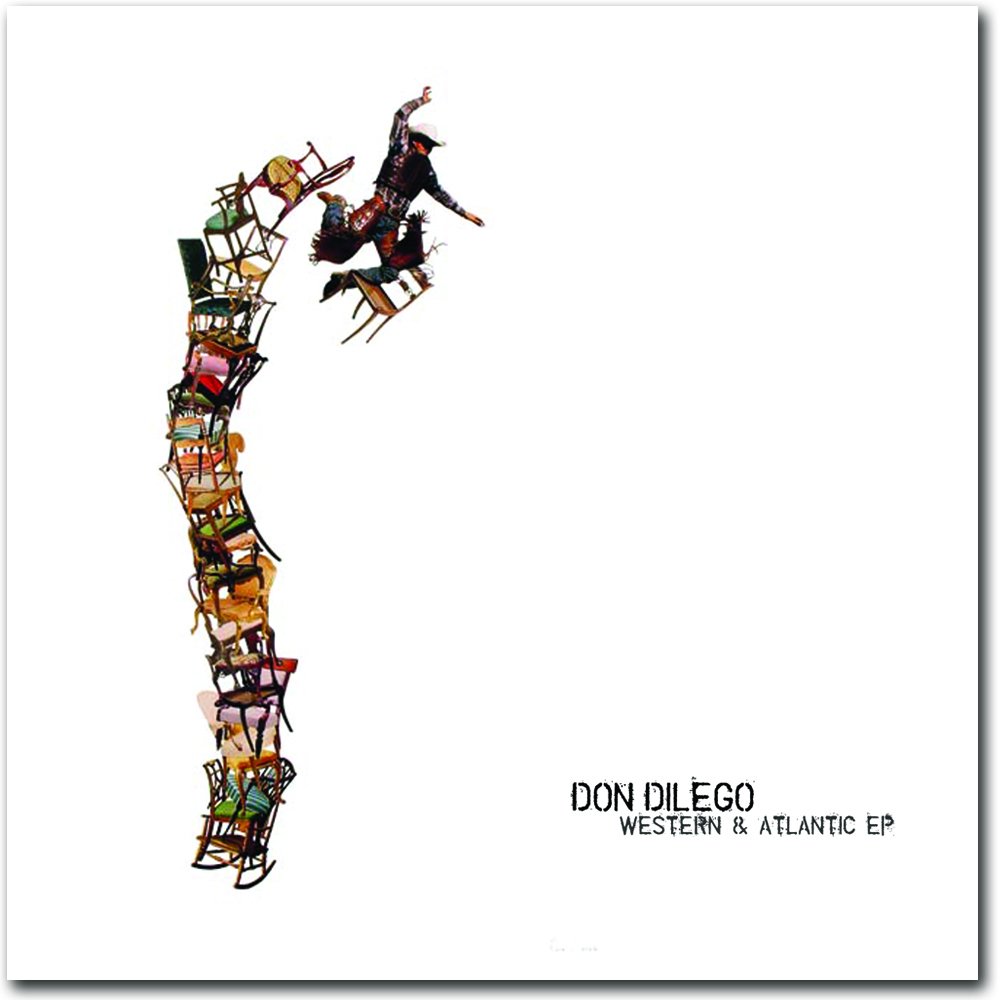 About the Album
"New York City's emerging folk-twang songsmith, Don DiLego, is alt-country's next poster boy" – RollingStone.com
Label  |  Velvet Elk Records            Producer | Don DiLego
The Western & Atlantic EP was born of a week of isolation in a Portland recording studio called The Secret Society, with Don enlisting Colin Killilea (Klaus) and Marwan Kanafani (City Breathing) as multi-instrumentalists, Gregg Williams (Dandy Warhols, Sheryl Crow) on drums, and longtime songwriting partner and bassist Erik Olsen. The result is a what-you-hear-is what-you-get sort of affair, with everything being tracked live in a room…a highlight of which was an unlikely one-take cover of The Replacements "Here Comes a Regular." But what started out as one album, became two. Upon the release of the Western & Atlantic  EP, Don is right back at work finishing the full-length Magnificent Ram A. Whereas Western is more along the lines of the eclectic soundscape that Don has become known for, Magnificent Ram A is its alienated older cousin.
From the first hypnotic pulse of the lead track "Midnight Train," Don leads the listener through his world of mixed instrumentation, staggered arrangements, and simply great songs. Chicago being a prime example of a perfect sing-along chorus with its girl/city mash up refrain, "Chicago, you're making me lonely. And I know, you never really loved me."  "Television Sun" is a true twang-pop song, propelled by a solid back beat of piano and bass, with the refrain "It's not who you are, it's what you believe, it's what you're fighting for." "Lonely Couples" explores the eye witness transfer of a dying relationship to the viewer, while the song takes one musical twist after the other, leading to an a' cappella meltdown. A few of these managed to be one takes, including "Here Comes a Regular", "The Holiday", and the live-from-the-ballroom "Carry On." While working on two simultaneous records, Don's travels carried him often from one coast to the other, Western & Atlantic. A title was born. Don has released three solo records, The Lonestar Hitchhiker (Universal – Kingcuts 2001), The Lonestar Companion (Velvet Elk 2004),  and his critically praised Photographs of 1971 (Velvet Elk 2007), which included an Australian  Songwriting Award for "International Song of the Year" in 2008,  for "Falling Into Space." He also released the soundtrack to his original score for the feature film Ranchero (2012).
Reviews
"Jaw-droppingly good…seven near-perfect alternative country tracks will appeal to anyone who likes Ryan Adams, and ensures that DiLego will remain on my musical radar from here on out. Highly recommended. "- Jeffrey Sisk (The Daily News, PA)
"From the EP's opener, the slide guitar driven Midnight Train to the final track, the intimate Carry On he touches base with Jeff Tweedy and Howe Gelb. Television Sun starts like an outtake of Neil Young's Harvest Moon before evolving into a road movie theme song that could have been written by Steve Earle. " – Here Comes The Flood
"Mesmerizes and enlightens." – CD Insight
"Fully convincing country-folk" – New York Daily News (Jim Farber)
"A record that hangs together like a star spangled cosmic nudie suit. This is country 'cool' " – Americana UK
"That soaring, confident voice, loaded with beguilingly oblique lyrics, goes a long way toward placing DiLego's Western & Atlantic EP above the fray. DiLego's angelic croon arcs into the ether, way above earthbound troubles and expectations."- Chronogram, Hudson Valley (Robert Burke Warren)
"I know what I like, and I like his new EP "Western & Atlantic", coming out next week on the excellently named Velvet Elk label." – 27Leggies UK
"Television Sun" from "Western & Atlantic (EP)," Don DiLego. This track brings an alt-country sensibility to an urban landscape that recalls Dion and the Belmonts as much as it does Jackson Browne." – Wicked Local Boston
"DiLego is cut from the same cloth as performers like Wilco and the Avett Brothers—his songs take country ballads one step beyond their obvious conclusion, yielding a genre-bending hybrid of indie rock and country. "- Examiner.com (Elizabeth Rowe)
The seven songs on this EP can qualitatively be with the best americana we've heard this year…an album on Jayhawks/Jeff Tweedy level." – Heaven Magazine (Netherlands)
"These tunes are incredibly strong, especially when considering the impromptu sessions that predicated them. This one unfolds more of its beauty with each subsequent listen. If you're down for thoughtful lyrics and disarmingly poignant melodies that resist emotive pandering, then Western & Atlantic needs to be in your corner." – Independent Clauses (Stephen Carradini)
"The Holiday" has a lovely melody reminiscent of gospel-soul, but features a weeping steel guitar and harmonica, while the ghostly piano, distorted guitars, and Beach Boys harmonies of "Lonely Couples" would have fit beautifully on Wilco's Summerteeth. And even though it's an EP, there's still room for a cover, too. But instead of The Kinks, he went with "Here Comes A Regular" by The Replacements. All of this leads me to wonder if DiLego is hacking into my iTunes library. He's happily welcome to it if the results continue to be as good as this." – Popdose (Dave Lifton)
"The most Athens, GA-ish song about Chicago ever created."
– Rocktober
Released 03 Jul 2012
All Releases
Links
dondilego.com
Bandcamp
Instagram
Credits
Produced and Mixed by Don DiLego
Tracks 2 and 3 recorded at White Star Sound, Charlottesville, VA
Tracks 1, and 4-7 recorded live in one room at Secret Society Studios, Portland, OR
Additional Tracking at The Trench in Portland, OR and Velvet Elk Studios
All Songs written by Don DiLego, Velvet Elk Music/ASCAP
Except "Lonely Couples" by DiLego/Kanafani/Pisano and "Here Comes a Regular" by Paul Westerberg/Warner Chappell
Secret Society Sessions engineered by Gregg Williams
White Star Sessions engineered by Don DiLego
Mastered by John McCaig at Panic Studios, Seattle, WA
All Rights Reserved, Velvet Elk Music ©2012
On the Secret Society Sessions:
Gregg Williams – Drums
Erik Olsen – Bass, guitar, vocals
Marwan Kanafani – guitar and miscellaneous
Colin Killalea – Guitars, organ
Luke Cissell – strings
Lex Browning – fiddle
Paul Brainard – Pedal Steel
Little Sue – guest vocals on "Here Comes the Regular" and "The Holiday"
Bree Sharp – guest vocals on "Midnight Train"
"Carry On" recorded live in the Secret Society Ballroom by Don & Colin while no one was paying attention.
On the White Star Sessions:
Paul Garisto – drums
Johnny Pisano – bass on "Chicago"
Erik Olsen – bass on "Television Sun"
Riley McMahon – additional guitars